17/09/2020
Technique et démocratie contre les mouvements sociaux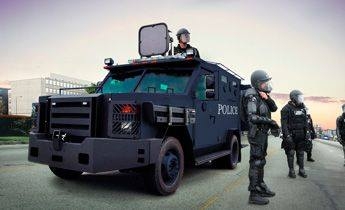 Les Gilets Jaunes, les acteurs sociaux, les pauvre seront heureux d'apprendre que le Noël de la répression est en avance cette année. Voici donc les outils qui vont enrichir la panoplie au coté du LBD et de la matraque du moins qui en cas d'échec sur la durée, de continuité des manifestations stériles dans les villes du Système, sur ses chemins, à ses heures et sous sa muselière de servitude.
A lire sur NPR.org
Military Confirms It Sought Information on Using 'Heat Ray' Against D.C. Protesters
By Dina Temple-Raston
NPR.org, September 16, 2020 · Updated at 2:51 p.m. ET
A spokesperson for Joint Forces Headquarters Command in Washington, D.C., confirmed to NPR that hours before federal police officers cleared a crowded park near the White House with smoke and tear gas on June 1, a military police staff officer asked if the D.C. National Guard had a kind of "heat ray" weapon that might be deployed against demonstrators in the nation's capital.
Col. Robert Phillips, a spokesperson for the Joint Force Headquarters-National Capital Region, or JFHQ-NCR, said the inquiry was made "as a matter of due diligence and prudent military planning."
The command "inquired informally about capabilities across the full-spectrum of non-lethal systems, to include the Long Range Acoustic Device (LRAD) and Active Denial System (ADS)," Phillips told NPR in a written statement. "JFHQ-NCR does not possess these systems, did not request such systems, and no further action was taken as a result of the officer's E-Mail query." (à lire en intégralité sur le site NPR)
18:15 Publié dans Actualité | Tags : arme, manifestation, répression, technique, militarisation | Lien permanent | Commentaires (0) |
|
Facebook | |